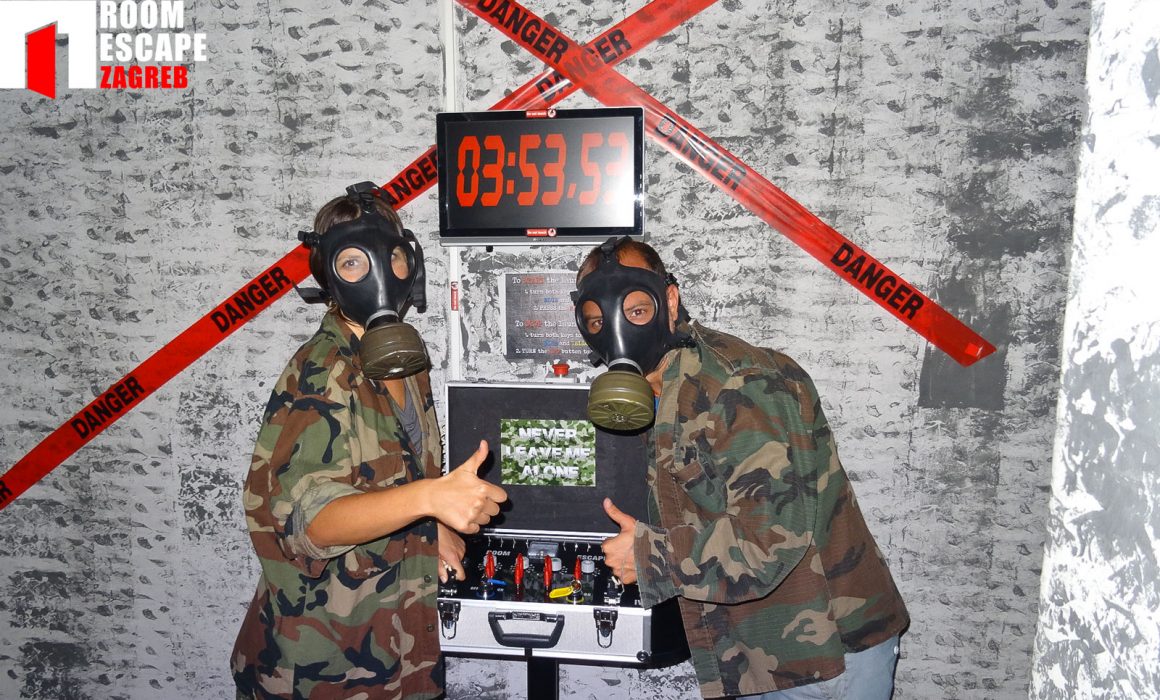 First time I heard the term escape room, I had no idea what to expect. Although very intuitive, the name itself has seriously not led me to think anything 🙂
Bogdan on the other hand, was being very persistent in trying to make me believe it's a reaaally cool new trend and I would love it! So we set off for our first ever visit to the escape room. This was September 2015, in RoomEscape Zagreb. Although we were only 2 players & both first timers, being huge adrenaline junkies there was no other way but to L-O-V-E this place!
The excitement you start to feel as soon as you enter the room. The theme of the room with all the details make you feel like you are starring in a movie! The immersion is real, you instantly start to live in the character! You hear… the ticking of the time… you feel… the pressure of the mission….We got so involved into our mission, we completely forgot about the outside world! All that was important now was to find the ticking time bomb and deactivate it before it destroys the whole world!
We had to work together to search the room carefully, to look through the items and to distinguish between real clues and distractions. An escape room is a real test of your communication & cooperation abilities. There is no way you could solve all the puzzles without teamwork! Each of us functions differently, and what was really cool for us from this experience was seeing how our brains work differently. Some things were easy and logical for me (duh!), while some were utterly confusing and complex (Bogdan's part of the puzzle-solving 😛 ). In the end, it was us working together that managed to get us out of the room, with only minutes to spare.
We were set on a mission of saving the world, and for those 60 minutes, nothing else in life mattered! We forgot all about our worries, responsibilities, problems, to-do lists… This has been the most amazing experience I have had in a while & has definitely made me take my mind off of things, relax, unwind & de-stress!
The fact that we opened our own escape room in Dubrovnik (that quickly became #1 fun thing to do in Dubrovnik) tells you just how much we loved this experience! We hope to further pass this experience & emotions to the people living & visiting Dubrovnik area, who are in search of some cool activities to do in Dubrovnik!
Have you experienced an escape room yet?
Go & try one! We promise you escape from reality, excitement & fun!!